Family fun at the campsite
On holiday in La Ferme de la Serraz campsite, you will have the opportunity of participating  in original activities throughout the summer. Our entertainment team offers family games, quizzes between neighbours and fun challenges to take up every day…
An entertainment programme for all ages
A family campsite par excellence, we provide many fun facilities for adults and children (billiards and table football, pétanque strip, table tennis tables, a playground for 2-15 year olds, etc.).
For your children aged 5 to 12, the Kids Club open in high season, organises treasure hunts, sports and artistic activities.
Our 5 ***** campsite is attentive to everyone's relaxation, which is why there is only a dance evening once a week between 9 p.m. and 11 p.m.
For families who would like to join in, our entertainment team organises a quiz and karaoke evening. 
Our mystery game?
A Escape Game to enjoy with the family

Your mission, should you choose to accept it: help the Physics Professor travel through time in search of his laboratory. Inadvertently propelled into the future, our dear professor can no longer find his laboratory, which has become La Ferme de la Serraz campsite. Help him find his laboratory using your parchment and the clues scattered around the campsite.
Cycling trip and diving initiation
At la Ferme de la Serraz campsite, it is possible to rent bikes all summer long for the whole family. It's great way to discover the region at a leisurely speed.
The cycle path is 400 meters from the campsite, and it takes you around the Lake Annecy by bike .
You and your family can take a day trip and cycle to Annecy, take a cruise on the lake, enjoy a snack on the grassy esplanade, The Pâquier, and return to the campsite by the cycle path.
Did you know ?
Every Wednesday morning during the high season, our entertainment team organises free diving initiation for children aged 8 to 14 in the heated outdoor swimming pool . Contact us for more information!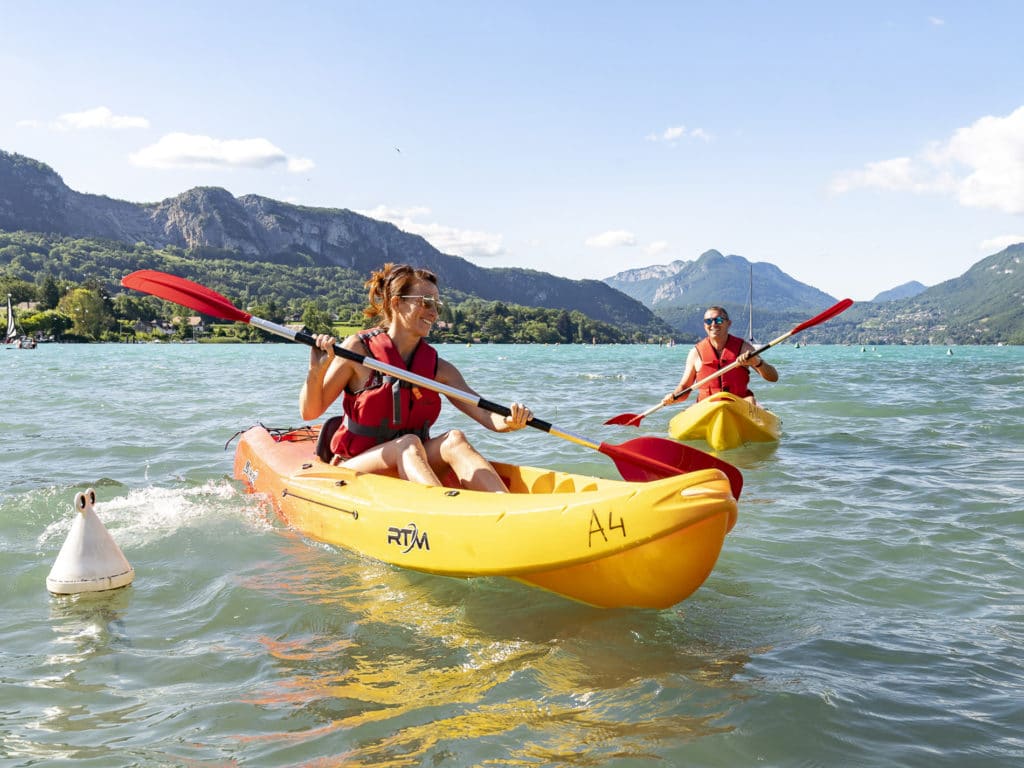 Activities at attractive prices
Do you want to try aerial or nautical activities with your family?
Make the most of your stay in Haute-Savoie and do a paragliding jump with the school Carpe Diem, or experience canyoning or climbing in the heart of the most beautiful landscapes of the region with Monté-Médio .
For a sporty holiday, our team recommends the school Ski Wake for the rental of boats, paddleboards or kayaks. You'll really enjoy these activities on Lake Annecy!
All these professional clubs are partners of our 5 ***** campsite La Ferme de la Serraz. You can book your activities with them with complete confidence.
And for a relaxed holiday, take advantage of the many beaches around Lake Annecy .