Paragliding at Lake Annecy
Activities to do around La Ferme de la Serraz
On a family holiday in our 5 ***** campsite, you might want to try an unusual sporting activity?
Take advantage of being next to one of the best paragliding take-off sites in Haute-Savoie and dare to take to the skies and enjoy the superb panoramic views over Lake Annecy and the surrounding mountains!
Paragliding from the Col de la Forclaz
On holiday in Haute-Savoie , a paragliding flight should be an essential part of your stay!
If you are staying in our Ferme de la Serraz campsite , you are lucky enough to be near one of the most famous take-off sites in the region: The Col de la Forclaz .
The Col de la Forclaz is only 20 minutes by car from our campsite, you can watch the paragliders take off and admire Lake Annecy from the viewpoint located a little higher.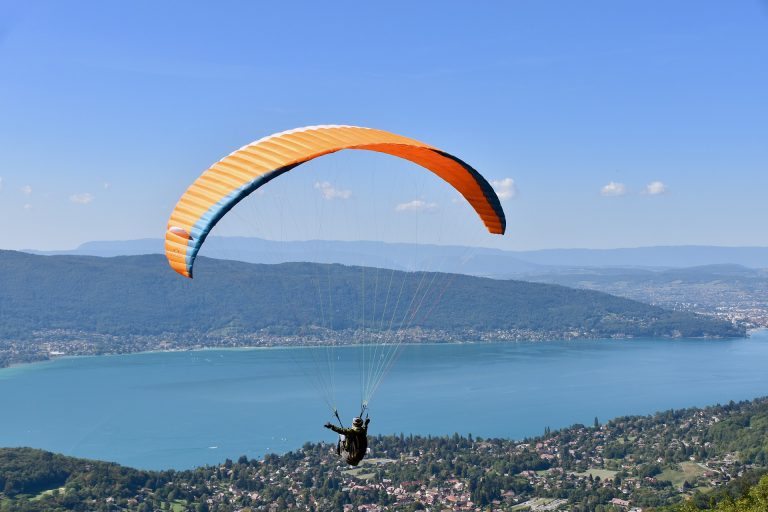 Carpe-Diem, a paragliding school
Established for a long time in the region of Lake Annecy, our La Ferme de la Serraz campsite is a partner of the Carpe Diem paragliding school in Haute Savoie. Defining itself as a school of life (a school that adapts to people), Carpe Diem offers customised paragliding initiation, introductory or advanced paragliding courses… Fly over Lake Annecy comfortably sitting in a tandem paraglider,  and fly like a bird during your first flight.
If you are staying at the campsite, you can benefit from exceptional advantages for your paragliding flight with Carpe-Diem. The team of Carpe Diem attaches particular importance to the quality of the equipment used and to the experience of the paragliding instructors.
Carpe Diem
55 Route de Marceau,
74210 Doussard
www.ecolecarpediem.com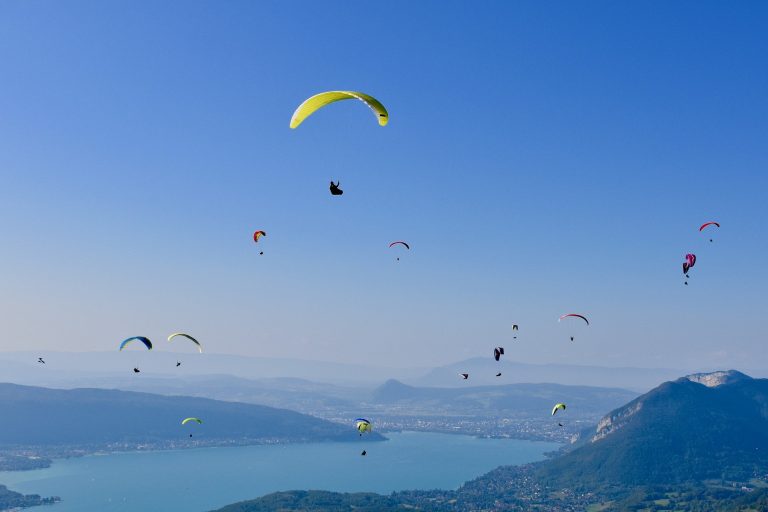 Did you know ?
Near Lake Annecy, paragliders and hang-gliders most often take off from La Forclaz and land just 500 meters from your 5 ***** campsite. One more reason to let yourself be tempted by the experience!